They've done it!
Our wonderful ARM Secure Keyholding Team have completed their 20K Charity Dog Walk throughout Sherwood Forest, on Good Friday 2022.
ARM Secure Commercial Director, Judy Atkinson, headed the charity walk to raise vital funds for Breast Cancer UK, Jerry Green Dogs Rescue and the Ukraine Humanitarian Appeal. "All charities very close to the teams hearts".
Breast Cancer is the most common cancer in the UK. Over 55,000 women and 390 men a year are diagnosed with breast cancer. Yet a quarter of these cases are preventable. Breast Cancer UK is working to prevent breast cancer through education, scientific research, collaboration and policy change.     Breast Cancer UK provides practical advice and tips on how we can reduce our risk. They campaign for changes to national health policies to support prevention, and fund research to help improve our understanding of how to stop the disease.
Jerry Green Dog Rescue have strong belief that "All dogs deserve a good life and a safe, loving home. We exist to provide a safe place for homeless dogs and to find new loving places for them to live." The Keyholding Team's fundraising efforts help support the rescue centre in the running costs for these important shelters.
Our team also felt strongly about donating a large % of the money to the Ukraine Humanitarian Appeal Disasters Emergency Committee.
ARM Secure Walks 20K
Our Keyholding Team, who are based in Ollerton, Nottinghamshire, embarked on their 20K walk throughout Sherwood Forest with their four-legged friends. The picture below is of the team before the walk.
It was Good Friday and our team had volunteered to complete the walk in their own time, on the hottest day 2022 has had so far! We trekked through most of the forests paths, and had a picnic half way through on what was a beautiful day for fundraising. I would like to thank all of our sponsors for their kind donations and to my wonderful team for taking part.

Judy Atkinson, ARM Secure Commercial Director
The team raised an amazing £890 for the three charities – you can still donate here by following this link https://www.justgiving.com/fundraising/armsecure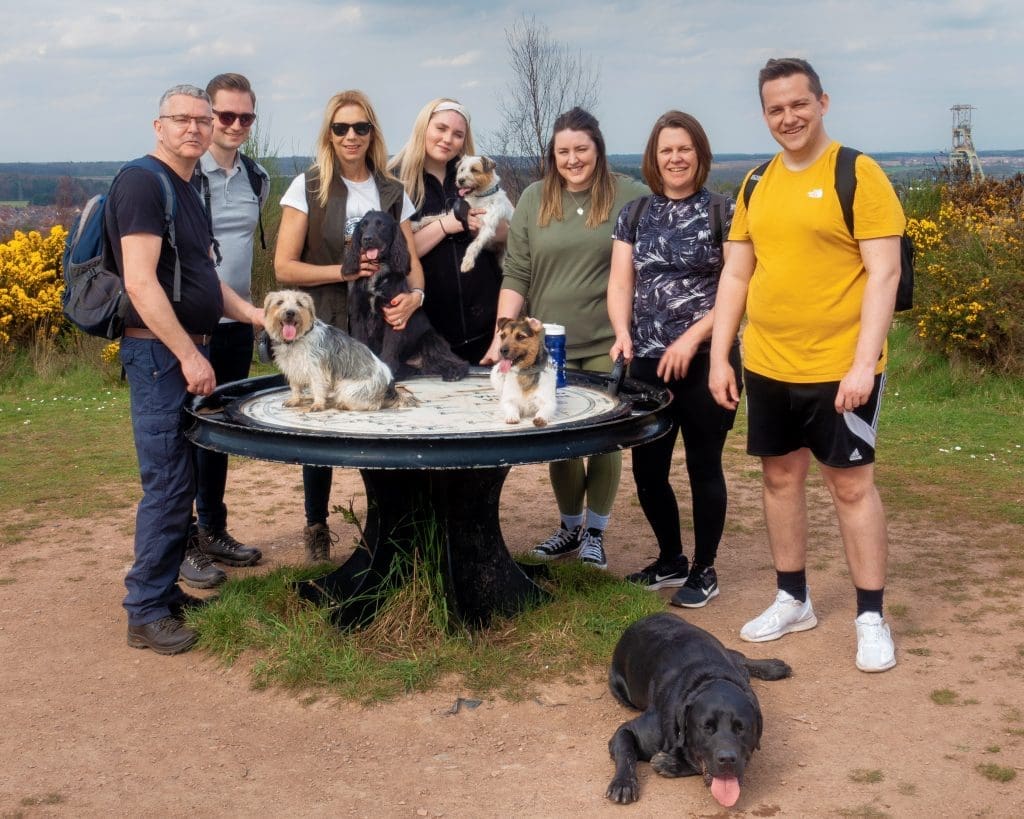 About ARM Secure
We are one of the UK's leading security companies. We are completely independent from other security companies which means we offer the best rates to our clients, and can provide the very best response times as we are unbiased with our service partners.
We have our very own award winning, NSI Gold, Cat II Monitoring Station and we probably monitor a premises you know, or a famous person you may like. Aside from this, we are brilliant at what we do, and we provide our customers with the very best customer service and our Installers with technical advice.
You may have previously known us as VRC Monitoring Solutions and Alarm Response & Keyholding. We are part of the Asset Protection Group; a group of Fire & Security Companies with One Common Goal. Protecting People, Properties and Peace of Mind.
Please get in touch with us for enquires about how we can enhance the security of your premises, whether that be residential or commercial.
Email here hello@armsecure.co.uk or fill out our security services contact forms located at the bottom of every web page.